BioSorter
Fluidics and Optics Core Assemblies
A single BioSorter instrument is able to cover the entire 10 to 1500 micron sample range by use of interchangeable Fluidics and Optics Core Assemblies (FOCA). Each is an optimized assembly of flow cell, matching pre-aligned beam focusing optics and fluidics components to facilitate changeover from one size range to the next.
Additional FOCA can be added to your system whenever your departmental needs expand.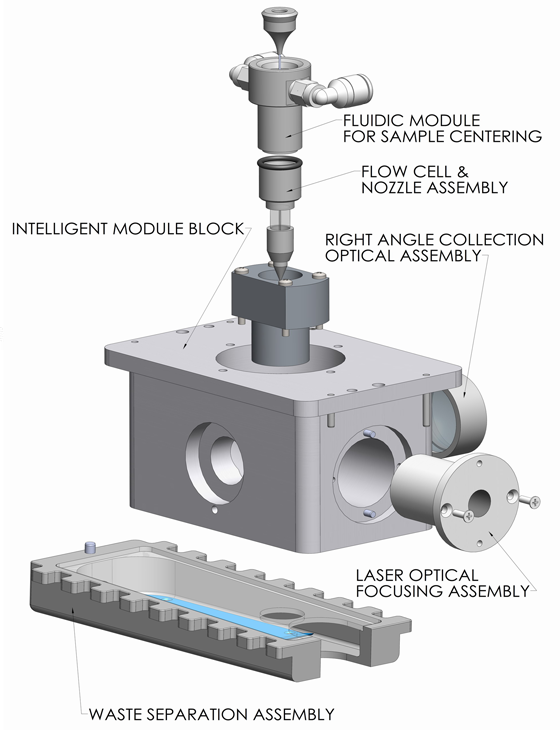 Fluidics and Optics Core Assembly (FOCA) Diagram
The size of the sample objects determines which Fluidics and Optics Core Assemblies are required. The following chart shows some general guidelines. Our applications scientists have years of hands-on experience running thousands of samples and can help you better refine the choice. Click here to talk to our staff by email or telephone.
BioSorter Fluidics and Optics Core Assemblies (FOCA)
250 µm
500 µm
500 µm Metallic Free
1000 µm
2000 µm
Object size range (microns)
10-200
20-400
20-400
30-750
30-1500
Recommended object size (microns)
20-150
40-300
40-300
200-700
500-1500
Sample Type
Size/Stage of Object
Small Model Organisms
C. elegans
embryo to adult
R
O*
synchronized adults
R
R
D. melanogaster
embryo to 1st instar
R
1st and 2nd instar
R
3rd instar
R
D. rerio

embryo to larvae (2-7dpf)

larvae (2-7dpf)

R

R

Plants
Arabidopsis &
tobacco
seeds, early seedlings
R
Large Cells & Cell Clusters
Adipocytes
. R .
Duct Cells
(kidney, breast,
pancreas)
R
O
Hepatocytes
R
O
Pancreatic Islets
O
R
Stem Cells
R
Embryoid Bodies
O
R
O
Beads**
R = Recommended
O = Optional
* Size resolution with 500 µm not as good as with 250 µm, Fluorescence is OK, Speed reduced by 1/2.
** Bead sizes are "swollen" sizes in water (not dry).