BioSorter
Reagents, Consumables and Controls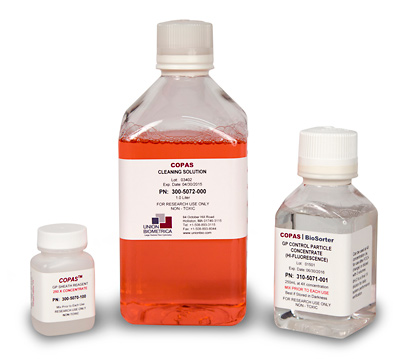 Union Biometrica, Inc. reagents and control particles are specially formulated and tested for optimized COPAS & BioSorter instrument performance. To achieve the stated performance specifications, Union Biometrica recommends that only factory certified reagents and particles be used. Reagents and control particles may be used across all COPAS and BioSorter platforms, however, for some applications (like Drosophila embryos or zebra fish), use of application specific sheath and control particles is essential for the survival of the organisms. Please refer to the downloadable Consumables Re-Order Form at the right for further information.
If you would like to discuss your application further with our technical specialists please contact us at appsupport@unionbio.com.
For pricing questions, please email us at orders@unionbio.com.